2018 Toyota RAV4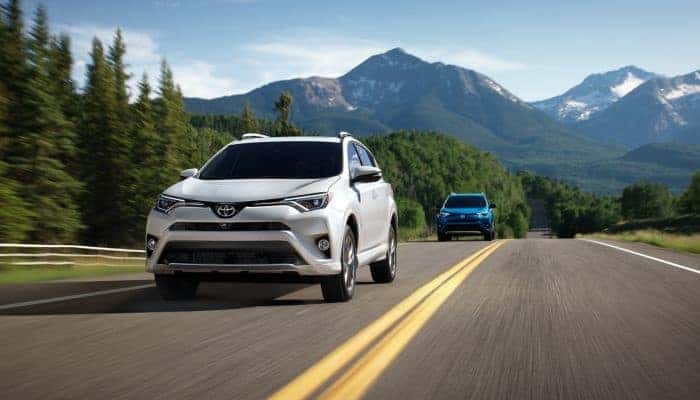 The Toyota RAV4 has been a long-time favorite in the crossover SUV market, and its 2018 model keeps the trend going. Expect some strength from its 4-cylinder engine, along with good fuel economy, and the ground clearance to handle minor off-road situations and snow. There is even a hybrid model for those interested in the environment. Drivers who are interested in going off-road a bit more can try out the Adventure Trim. The Adventure Trim raises the ride height to 6.5 inches, along with heated cloth seats, heated steering wheel, and front wiper de-icers.
Versatility
Part of having an SUV is being able to tackle a variety of different challenges on and off the road, while still being suitable for ordinary use. The 2018 RAV4 hits that note on several levels. Drivers can load on all the cargo they need with the hands-free lift gate for RAV4 Platinum and Limited, simply by waving their foot under the bumper. Drivers can stay connected even when they're not on the grid with a 120V/100W power outlet in the rear cargo area. Drivers can also reconfigure the seats to create a cargo space with 73.4 cubic feet of capacity.
Toyota Safety Sense
One of the best things about the Toyota RAV4 is that drivers get access to one of the best safety features in the market, the Toyota Safety Sense suite. Here are some of the top features from this setup.
Automatic High Beams
Make night driving easy with this handy feature. The system uses an in-car camera to detect headlights and taillights from other vehicles. The system switches between high and low beams to keep from blinding other drivers. Using high beams at night may make the difference between seeing certain obstacles on the road.
Dynamic Radar Cruise Control
Cruise control has become a handy way to drive on the highway, but it doesn't always work out if other cars are going too slow. This feature adapts to the situation, driving at a preset speed while keeping track of surrounding cars. If another driver is traveling slower than the range that was set beforehand, the RAV4 automatically slows down. If it goes even slower, the system uses the brakes. Once there are no cars in the range, the vehicle accelerates and goes back to normal speed.
Pre-Collision System with Pedestrian Detection
This system avoids a potential collision with the combination of an in-vehicle camera and radar. When a collision could potentially happen, it lets drivers know with audio and visual alerts, and can even automatically apply the brakes if needed.
Lane Departure Alert
Land Departure Alert helps drivers detect lane departure on clearly marked roads. It sounds an alert to signal that drivers should look around carefully before heading back into their lane. It can also make steering inputs to keep drivers in their lane when needed.
Performance
Along with its features, the 2018 RAV4 helps drivers navigate the road with confidence with the Dynamic Torque control system. This constantly keeps track of engine power between the front and rear wheels, adding traction as needed.
Visit Stevens Creek Toyota of San Jose to check out our extensive inventory of the 2018 Toyota RAV4.