2018 Toyota Camry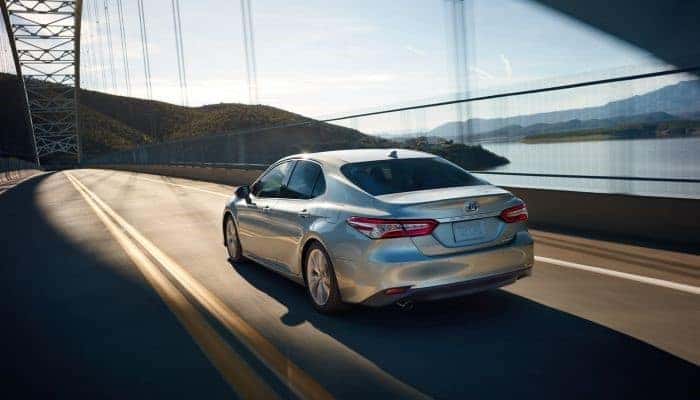 This year marks a milestone for the Toyota Camry, with it being the 35th year of the car's existence. As is fitting for such an occasion, Toyota has made plenty of new additions to the iconic mid-size sedan. This includes changing up the look with a bold new appearance and making some new handling additions that make it more fun to drive than ever before. MSRP pricing for the Camry starts at $23,495. Here are some of the things drivers get when purchasing this midsize favorite for reliability and ease of use.
Styling
The 2018 Camry has a sportier look than ever before, including the available Cockpit Red leather interior. Looking to try and bring in the sun on those warm days? The Camry XSE has an available panoramic glass roof, complete with front power tilt. For even sportier looks, use the XSE's color-contrasting back roof, side mirrors, and rear spoiler.
Toyota Safety Sense
Buying the 2018 Camry means that drivers get one of the best-in-class safety suites out there—Toyota Safety Sense. This set of features makes sure drivers and their families are protected in any scenario on the road. Here are some of the main features:
Pre-Collision System with Pedestrian Detection
This system mitigates potential collisions, as well as helps avoid them by using the combination of an in-vehicle camera and radar. When the system determines that a frontal collision is likely, it displays the indicator to take action via a series of audio and visual and alerts. If the driver reacts and applies the brakes, the system may apply additional force with Brake Assist. If not, it may help avoid the accident by automatically applying the brakes.
Lane Departure Alert
Land Departure Alert helps drivers detect lane departure on certain roads with clear markings, in certain circumstances. Note that this only occurs when drivers don't use their blinker, and when traveling 32 mph or faster. The alert gives drivers an indicator that they should go back towards the center of the lane, after safely looking around. The Toyota Safety Sense also includes a Steering Assist functionality, which may make steering inputs to keep the vehicle in its lane.
Automatic High Beams
This system uses an in-car camera to detect headlights of other vehicles at night. The system automatically toggles between high and low beams to provide the amount of light needed. High beams allow drivers to detect obstacles and pedestrians earlier in certain circumstances.
Dynamic Radar Cruise Control
This takes cruise control to a new level, driving at a preset speed while keeping track of the surrounding vehicles. If another driver is traveling slower than within a preset range, the system will automatically slow the car down. If it need to slow down more, it will alert the driver and apply the brakes. Once a vehicle is no longer within the range or radius, cruise control resumes.
The Hybrid Option
The 2018 Camry hybrid reaches new tiers of efficiency, going up to an estimated 53 highway MPG on its electric motor. By relocating the battery, this new model also has more trunk space and a lighter weight. A battery has an extended dependability of 11 years now.
Visit Stevens Creek Toyota of San Jose to check out our extensive inventory of the 2018 Toyota Camry.